Home : Erotic Stories :

Reviews 4 : - add review, Author : Faithful Design, Part 1 from 2.
Candy
I had this really good friend named Dave who also had a friend named Rusty. Well, Rusty had this really knockout girlfriend named Candy. Dave is a real bullshitter and I didn't believe half of the wild stories he told, so I just ignored his comments about how wild Candy got when she got drunk. He told me how Rusty was the type of guy that only wanted it about once or twice a week and Candy wanted it once or twice an hour. Since she was a "good little girl" she couldn't really cheat on Rusty, but if you got her drunk, she would do anything and not feel guilty about it. One day Dave told me he was going to prove to me how wild Candy really was. He had arranged for us to meet her at the local Pizza Hut for pizza and beer. When she met us I noticed that the dress she was wearing was really unusual in that it was made almost exactly like a raincoat, buttons down the front with a belt around the middle. I also noticed a lot of cleavage and her shapely calves encased in fishnet stockings. We sat down and ordered our pizza and two pitchers of beer. When the beer arrived, Candy said that she didn't want to drink any because she didn't like the taste. Well, after our pizza arrived Candy gave in and poured herself a glass of beer. When we were done with the pizza, we were also done with the beer and Candy had only had one. We soon ordered two more pitchers and convinced Candy that the only way for her to drink with us was to "chug" each glass so she wouldn't taste it so much. After "chugging" about six or seven glasses of beer, Candy was being as sweet as her name. She had unbuttoned two of the lower buttons on her dress so that she could mover her legs enough to play footsie under the table with me. As we were leaving, Dave was getting in the driver's side of the car and I was waiting for him to unlock the passenger door when Candy called out to me. She was standing in the center of the parking lot and when I turned she opened up her dress and showed me a bra less cutout corset with garters and stockings. Her nipples were about the size of a quarter and looked like Hershey's Kisses in the cool evening air. Her bush was a light strawberry blonde that looked like the hair was very thin or recently trimmed. About then I realized that we were in the middle of a city with about 100,000 people in it and it was still daylight at 8 P.M. Dave unlocked the door and we got into the car. Nothing else happened that night, but Candy and I became drinking buddies for several months. One evening about 4 months later Candy called me and invited me and my bottle of rum over to her apartment for margaritas. I quickly showered, dressed, hit the liquor store and was at her apartment in about 20 minutes. When I got there I thought something was up because Rusty was working night shift and Candy's roommate was out for the rest of the night with her new beau. Candy made the mistake of letting me make the margaritas and I loaded about a cup of rum into each one of the drinks. After our third round Candy was feeling real loose. Our casual conversation suddenly turned sexy when candy asked if I had liked her lingerie that night at Pizza Hut. I said that I loved lingerie but had trouble finding women who were into it as much as I was. When Candy heard that I loved lingerie she offered to give me a fashion show of her lingerie collection. I quickly agreed and she disappeared into the bedroom to change. The first outfit she came out in really knocked my socks off. It was a basic white bra with frilly lace across the top edge of the cups. The lace was cut just low enough to expose the top half of each perky brown nipple. She was wearing white garters that rode perfectly across her slender, full hips with four long, lacy straps leading down to her white stockings. The stockings were the sheer white kind that sparkle in the light and she was moving around alot to produce the best possible effect with the little light available. She was wearing white lace panties that were no more that two triangles of cloth held together by lace straps. The front panel was transparent enough that I could see her light bush and a hint of pussy lips. She really knew what she was doing because she had put her panties on over the garters so she could take off her panties without removing the garters.





Pages : 1 | 2 | More...
New XXX Sites Reviews
Random

A guy fantasizes about having sex with a girl who does not shave...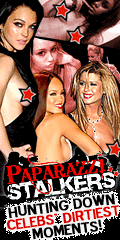 More Sex links...