Home : Erotic Fiction :

Reviews 4 : - add review, Author : tallyhol, Part 1 from 1.
The slut got her brutal gangbang
So it was friday night and I was lonely, it had been a while since I'd had a boyfriend or even a good fuck! I decided at about 9 to go down to the local pole dancing club and try and get laid. I put on my sluttiest outfit (a white seethrough top and a very thin white bra that clearly showed off my nipples, a skirt that was at most 3 inches lower than my pussy lips and a simple red G-string that well, covered nothing!!!)And headed off. When I got to the club I walked straight through to the managers office to see if there was a spare slot, I had already performed here quite a lot and also obvcourse I'd banged mark (the manager) quite a bit as well. 'Heyy rikki!' He exclaimed when I walked in to the office. 'Heyyya mark, got any work ?' I asked while taking a look around his office, there was already 5 women standing topless along one of the walls, ready for examination from him, the was a few whips in the corner incase someone needed punishment for being late ect, there was some naked pictures of well random women on the wall and a blonde girl with round DD tits riding marks cock. 'Well no pole dancing slots no' he pulled out of the blonde girl and moved on the feel the topless girls breasts 'but if its a good ole fuck your looking for then there is a small group of men who want a quiet fuck tonight, would you be interested' 'Yeah actually I would, where do you want me to go?' 'Just go out to the car park and you will see a tall man with short black hair, your his slut' So I walked out into the car park, and looked around. I saw a tall man with black hair and walked over to him. 'I'm your slut' He grabbed my hands and tied them behind my back, then he bruttally pushed me into his car and began to drive. 'Now listen here slut, you are going to be taken to the woods about 2miles from here, and me and my friends are going to use and abuse you, the more you moan, the more pain we will bring' And with that we came to a hault, he dragged me out of the car and pushed me into the woods. Surrounding me was a group of 60 odd men all standing waiting and ready with there huge cockss out (none under 10 inches!!), the men formed a circle around me. The guy with the black hair asked if they wanted some slut, to which they all cheered. He ripped my top off and my cheeks turnt crimson and I was topless infrount of all these men. Then he yanked of my bra and reached under my skirt and pulled my gstring to pieces. He pulled a nipple clamp and violently attacked my errect nipples with it, with that 2 guys stepped forwards. The first guy pushed me onto the floor and tryed to shove his 10inch long 4inch wide straight into my pussy, it hurt but only the head would fit in, 'stupid slut' he screamed in frustration and slapped my face hard. He moved his face near to my pussy and I thought I was going to be pleased by his tongue, I wasn't. He spat all over my poor little cunt, and once more he slapped one of my tits and finnaly rammed his monster into me, I sqeuled half out of pain and half of pleasure. He continued this for a good 10 mins until he spunked all inside me. The guy with the black hair came back over and with no warning shoved a lubed butt plug all the way up my peachy ass. Another man walked over to me and pulled me by my hair into doggy style position, he began penetration me fast and hard whilst gripping my hair for support. 3 men joined him but kneeled down infrount of me, all three of them shoved there mega cocks into my mouth and facefucked me whilst I was gagging and sucking away. The man stretching my pussy pulled out and with no warning shoved his cock all the way back in deep, to the balls and dropped his load, the 3 men in my mouth all pulled out and did the same but all over my face. The black haired guy walked over and slightly pulled part of the but plug out, took a step back and then violently kicked it so that it flew out of me. I was then lifted up by the nipple clamps whilst a black man with a good 11inch cock as wide as a fist layed down, I was dropped onto him and he began the shoved his cock in my ass, 2 more men came over and kneeled down this time infrount of my pussy they put there cocks heads at the entrance of my hole but they wouldn't fit in, so they counted to 3 and each ripped a nipple clamp off. The pain was agonising and as I bucked my hips they both pushed there dicks right inside my pussy. The guy bumming me began attacking my tits, he was pinching and stretching my nipples to the limit and slapping them so that he could get deep inside me, and after a good quater of an hour finnally spunked. To be continued.





Pages : 1 | More...
New XXX Sites Reviews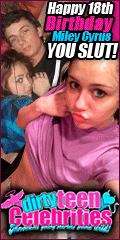 More Sex links...